I can barely lift my arms to write this post because of a great triceps workout yesterday. I'm suffering through though to bring the blogosphere one of my most healthy, simple, and desirable dinner options: cauliflower fried rice.
I wasn't planning to make this dish until next week, but G was craving it and I wanted to oblige. As I wait for the broccoli to roast before moving forward with the rest of the stir fry, I'm sharing this healthy gem with you. With our running program beginning Monday, the need for meals packed with protein and good carbs is a must. Plus I LOVE fried rice but always feel so guilty after eating Chinese take-out due to the ridiculous grams of carbs and sometimes greasiness fried rice can have. So this recipe is a win-win-win in my book!
Cauliflower Fried Rice
Servings: 2
Difficulty: easy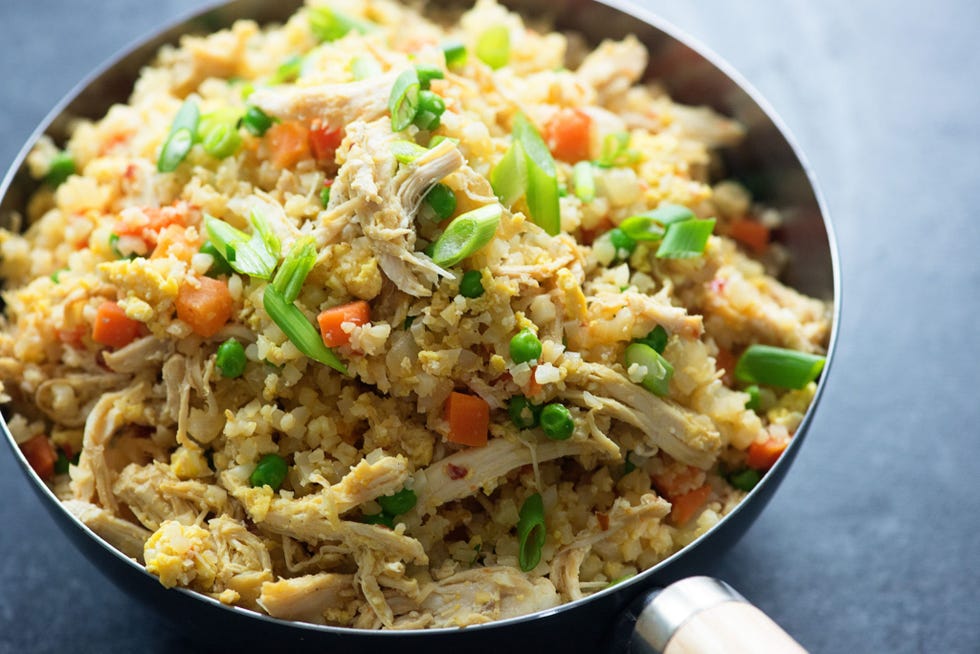 Reader beware, you're going to have cravings.
When I first began making this recipe I riced my own head of cauliflower with a food processor. I then came across the wonderful world of Birds Eye and my world was forever changed! Now I stock up on riced cauliflower bags (found in the freezer section of grocery stores) when they are on sale in anticipation of this tasty dish. Feel free to prepare as you wish — both options are great!
Ingredients
1 head of broccoli, cut into small florets
2 tbsp olive oil
garlic salt, to taste
1 bag Birds Eye Savory Herb Riced Cauliflower, thawed
2 tbsp olive oil
1 Medium Onion, Diced
1 clove garlic, minced
other vegetable options (mushrooms, carrots, peas, etc.) to your tastes
2 skinless, boneless chicken breasts, cubed and cooked
2 large eggs
2 tbsp soy sauce (may subtract/add depending on taste)
Directions
Line a cookie sheet with aluminum foil. In a large plastic bag, shake broccoli florets, 1 tbsp olive oil, and garlic salt together. Pour onto cookie sheet and evenly spread. Bake for 25 minutes at 375 degrees.
While broccoli is roasting, heat 1 tbsp oil in a large skillet. Add onions and garlic and cook until fragrant.
Add all other vegetables and cook until softened.
Add meat and heat through.
Add riced cauliflower and cook an additional 2 minutes, stirring frequently.
Push rice mixture to sides of the pan and crack eggs into the open middle of the skillet. Scramble eggs with a bit of soy sauce.
Once cooked through, stir scrambled eggs into rice mixture and cook an additional 1 minute.
Add roasted broccoli to rice mix. (You do not want the broccoli to get soggy, so do not overcook — make this your last step before adding soy sauce.)
Add soy sauce to taste, stirring frequently.
Remove from heat and serve immediately.
Macros are dependent on vegetables and meats used. One alternative option is to use garlic-sauteed shrimp instead of chicken. Yum!
For 1 serving with only the riced cauliflower, 4oz chicken, broccoli, sauteed onion, egg, and soy sauce:
kcal = 301, protein = 37g, carbs = 21g, fat = 10g
In other news, I am actively increasing my strength training on a weekly basis. Today was Leg Day, and I was pleasantly surprised to see I could add an additional 15 pounds to my leg press (bringing myself to 275lbs) and another 10 pounds to hip abductions and adductions. I'm slowly getting stronger and it feels good! Yes, I iced my knee last night due to our first day of running, but the little bit of pain is well worth the time spent with my fiance on this new adventure. We pushed ourselves to get a good start in the program and the endorphins were well worth it. Here we are all bundled up for the 35 degree April evening:
Goodness, he is the cutest thing in the world…
It is now snowing in Michigan, so we are embarking to the gym following dinner to begin Day Two of training.
Until next time, friends!