I've been doing pretty well when it comes to tracking my intake and eating healthier meals now that the holiday season has waved goodbye. Though it is difficult to say no to desserts now that I don't have the excuse of numerous baked goods appearing in the house, I balance my newly-found sweet cravings with a glass of wine each night becauseeeee heart health, right? And the necessity of a good Malbec after a long day — G and I have been hitting the gym every morning at 5:30am!
So, time for another healthy recipe that is a staple in my monthly meal plan. This week's lunches are one of my personal favorite: hot baked chicken. For a girl who grew up having hot wings every Sunday paired with a juicy episode of Desperate Housewives, this healthier option brings back some great memories with my family. Plus, how can you go wrong serving this American classic?!
Hot Baked Chicken
Servings: 4-6
Difficulty: easy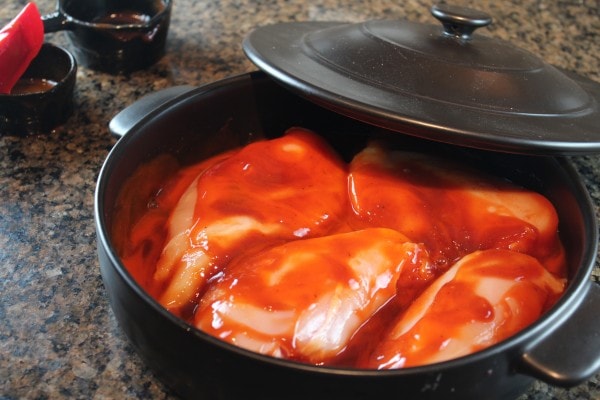 The perfect substitute for the all-American hot wing lover who wants to be slightly health-conscious.
This baked chicken is fantastic with ranch or blue cheese dressing. When considering lower fat content, I opt for Bolthouse's Yogurt Classic Ranch or using cottage cheese. I like my chicken spicy so the dairy cools my taste buds a bit.
This hot sauce mixture is a crowd pleaser and optimal at parties — go ahead and substitute deep fried hot wings for the classic plate.
Ingredients
4 or 6 boneless, skinless chicken breasts
1 cup Franks hot sauce
1/4 cup honey
2-4 Tbsp butter (depends how healthy you want to be..)
cayenne pepper, to taste
chili powder, to taste
garlic powder, to taste
Directions
Line a 9×13 baking dish with foil and grease with cooking spray
Bake chicken, uncovered, for 10 minutes at 450 degrees, then flip and bake for another 10 minutes or until fully cooked
Toss foil and replace baked chicken in baking dish
Mix hot sauce, honey, and butter in a medium glass bowl, add spices to taste
Place bowl in oven and heat enough to melt butter (caution: heating too high will break down honey)
Pour heated sauce over baked chicken
Serve immediately

1 Serving of Sauce: kcal = 77, protein = 0g, carbs = 12g, fat = 4g

My lunch meal stats:
1 serving Sauce: kcal = 77, protein = 0g, carbs = 12g, fat = 4g
4oz chicken tenderloin: kcal = 90, protein = 22g, carbs = 0g, fat = 1g
1.5 cup baby spinach salad: kcal = 20, protein = 2g, carbs = 3g, fat = 0g
1 cup 1% cottage cheese: kcal = 160, protein = 26g, carbs = 8g, fat = 3g
TOTAL: kcal = 361, protein = 50g, carbs = 26g, fat = 8g